Nana Yaw Adu-Sarkodie
Dr. Nana Yaw Adu-Sarkodie, is a physician, husband and father and resides in Baltimore, MD. In The City is his first children's book inspired from the wonders of raising his two daughters. "Dr. Yawza!" is an avid reader and collector of comic books, a foodie, and enjoys spending time with his family.
---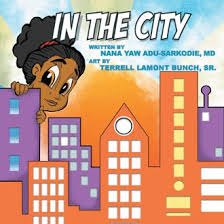 In The City
In the City, was inspired by a song that Dr. Yawza! sang to his youngest daughter during a trip to New Orleans. It was early morning, and she had just woken up crying. From the hotel room window, they could see and hear the hustle and bustle of the city. Surprisingly, his daughter loved the song and thus In the City was born.